Hi guys, my name is Marshall.
This is my build on my current Nissan 180sx. I'll start with a little information about myself.
I was always interested in cars since a young age, playing with matchbox, micro machines, hotwheels, lego cars. In any case, it wasnt till I got my licence in 2002 that things started to really pick up. My first car was a 1993 Ford Laser that was pretty riced up. It had rims, blue interior, x2 12" subwoofers and a hotdog muffler. I thought it was cool at the time and it did serve me well while I worked as a pizza delivery guy for Dominos, until I wrote it off.
Second car I bought was a red 180sx with a vertex kit. The car overall was mildly modified with tein coilovers, some ROH 17" rims and yes, bodykit. The car had been resprayed in red as well. Nothing was done to the sr20det besides a pod filter. It was my first turbo car, and despite my dad saying that turbos were crap, I bought it anyway. Oh yes come to think of it, it did have a Blitz BOV which I did love at the time PSSUUSHH PSSUUSSHHH. Going from a non-turbo POS laser to a 2L turbo was great! I did love the car but then things started to break down. I found that most of the time I was fixing the car! I did buy a few mods like a china spec fmic, dump and front pipe but I never got around to fitting them on. Even though the car wasn't that low by these days standards, the car was pretty low for me and lets just say I cracked the front bar a few times. I was keen to replace it, but that didn't happen either. The thing that scared me the most about the car was when I was driving in the wet and I wanted to overtake someone. Naturally I planted my foot and turned only to realise that I was aqua planing across the road and I literally just glided over the lane I wanted to be in, into the medium strip. My car mounted the curb sideways and skidded to a halt on the grass. Thats when I knew not to accelerate in the wet like that otherwise I might die. It didnt take me long to write off the car, but it was purely an accident at a traffic light intersection (it didn't involve me speeding just not paying proper attention).
In between this period I had no car, I had my insurance money but no car. That's when I decided I would save up as much money as I could to buy a new car. However I still needed to get around to uni and to work. So I bought a bicycle! I rode to uni for 6months which made me ultra fit (7km there and 7km back in uphill/downhill conditions). Eventually I would just borrow my mothers Tarago to get to work (I did night-shift at Coles) and I thought it was pretty humiliating but I had no other choice! I had concluded that it was better in the long term. I can tell you that having a Tarago did not help picking up chicks at all. In fact, I was pretty much a hermit for that period of time. I did however get my hands on another red laser which my parents bought for my brothers to learn how to drive, but that got consequently stolen. They are actually easy to break into, just need a coat hanger!
So finally at the end of 2006 I had more then enough money to buy a new car. I couldn't afford a s14, let alone a s15 since they were going for around 20k-30k. R33's were also around that mark so no go. The cars I did look into and contemplate were the DC2 Type R, VTiR, RX7 FC, R32 GTST and of course the 180sx. DC2's were too expensive in WA, they still went for close to 30k whereas overeast you could get one for around 20k. I came really close to buying a black R32 GTST, I did love the sound of the RB20DET but alas it was not meant to be. Eventually I got a call from Yujia and he told me that he had found a great stock 180sx for sale that (SO and SO) just imported. The name actually escapes me right now but he operated at the back of JShop. I went to check it out and yep, it was pretty clean. It only had about 80,000 km and the car overall was stock except for a cat back. So I bought it for 10k (NOTE IN CASH LOL) and thats when it all began again. This time, I thought to myself, I would do it right from the start! First thing I bought were Trust M-SPEC FMIC, then soon after Nismo LMGT-4's, then HSD HR Coils, Msports bodykit. Modifying pretty much accelerated once I started work. That's when I started doing the turbo, cams, manifold, suspension etc.
Since then, I have pretty much used the car for drags, AHG days and a few cars shows. The car isn't what I would consider super clean at the moment, but I thought I would enter it just for the hell of it. I mean to me, owning a silvia isn't exactly about owning a show room car, after all it is a silvia! Also I couldn't afford it haha. I haven't modified the car too much recently and things are starting to slow down as I reach what I would consider, "the super expensive stage". Especially after I forked out for the TE37SL. Eventually I would like to enter the car into either time attack style racing or drifting or both! Owning a car like this, it is a commitment. There are many times I would have thought about selling it and just giving up, but I am still plowing through. As my friend said, it is like holding on to your "lost youth".
Anyway, here it is:
1992 Nissan 180sx sr20det 5spd man Super Hicas [Super Black]
Unsure if its Type I or Type II
Stats
HP: 295.2RWHP@17psi (1.2bar) 378.5nm tuned by Allstar Garage
Dyno sheet
QTR: 13.170@108.56mph/174.71km/h
Time sheet
Mods: Mani, gate, 740cc inj, poncams
Previously
HP: 260.9rwhp@16psi (1.1bar) 330.7nm tuned by Allstar Garage
Dyno Sheet
QTR: 13.221@107.91mph/173.66km/h
Time sheet
Mods: 2871r, 480cc injectors, nistune
Previously again
HP: Unknown (however stock is 110rwkw? approx or Factory specs = 151kw 274nm)
QTR: 14.160@99.66mph/160.38km/h
Time Sheet
Mods: fmic, exhaust, fuel pump
Engine:
Garret GT2871R .64 s15 comp cover (modified external gate)
Earls braided turbo lines
HKS Snout
Kelway Steampipe Manifold, (Tomei spec)
Custom Screamer pipe
ITS Wastegate
Tomei Poncams Duration: IN 256, EX 256 Lift: IN,EX 11.50
Type R 143043
Nismo 740cc Injectors
16600-RR544
Nismo Fuel pressure regulator
22670-RR580
Nismo Fuel pump
17042-RRS31
4.1L/min, 246L/hr
Nismo Radiator cap
Nismo Oil cap
Nissan s15 7 layer metal manifold gasket(new)
Nissan manifold to turbo gasket (new)
Nissan turbo to dump gasket (new)
Nissan Z32 AFM
Nissan Z32 Fuel Filter (new)
Nissan Waterpump
B1010-52F01
(new)
Nissan Clutch Master Cylinder (new)
Nissan Clutch Master Cylinder Metal Line (new)
Nissan Power Steering Line (new) x2
Nissan 02 sensor
22690-50F00
(new)
Nissan Coolant
Gates Alternator belt
Gates Aircon belt
Gates Power steering belt
Yashio Factory Water pump pulley
JJ Front/Dump 3" pipe
HKS Silent Power Cat-back
Greddy Catch Can
13500509
Drivetrain
Nismo Super coppermix clutch [rated at 420ps]
3000S-RS520-H1
[122,XXXkm 06/03/2010]
Nismo Lightweight flywheel [nismo 6.5kg, stock 8.87kg, cusco 4.8kg, jun 4.7kg]
Nismo Steel braided clutch hose
46211-RSS40
Nismo Reinforced release pivot
30537-RS540
Nismo Reinforced clutch pedal bracket
46550-RS521
Nismo GT LSD Pro 6Bolt
Cooling:
Trust Air Diversion Plate
Trust M spec front mount intercooler
12020469
Trust Hot pipe
A'PEXi Power Intake
500-A024
Koyo N-Flow Aluminium Radiator
Samco Radiator Hoses
Suspension:
HSD HR coilovers
Kazama castor rods
Whiteline front heavy duty adjustable sway bar 27mm
Cusco Rear Sway bar
Cusco Rear OS strut bar
Cusco Front OS strut bar
Cusco Rear Camber Arms
220 474 L
Wasp Tie rod ends
Repco steering rack boots
Body:
Genuine M Sports full bodykit
Ganador Carbon Fibre Mirrors with Blue lens
Type X tail lights - 4 Piece
TKO Desert Smoke tint
D-Max Parkers with indicators
AerPro Dual Super SMD LED Parkers T102W
Boot welded and bogged
Repainted wipers front and rear
Type X spoiler (not yet fitted)
Wheels:
Rays Engineering - Volk Racing TE37 Super Laps 17x9.5+12 18x10.5+15
Bridgestone Potenza RE001 215/45/17
Bridgestone Potenza RE040 235/40/18
Kics Racing Composite R40 Revo Classical Wheel nuts
S14 front 5 stud hubs
S14 lower control arms
S14 knuckle /w 12mm metal sleeves
R33 rear 5 stud hubs
Brakes:
R32 GTR Vspec 1 brakes repainted in black (Alloy)
DBA4000 slotted rotors Front 296mm
RDA slotted rotors Rear
ACRE Street Fighter Pads Front and Rear
AP Racing 5.1 Brake Fluid
Maltech Front Braided Brake lines
Interior:
Bride Vios III FRP
Bride Rails LF Type
Nardi Deep corn Perforated Leather
Boss Kit
HKS gearnob
Carbon Fibre overlay center console
Takata 4 point Harness
Klippan Seatbelts :
Front Left:
K6304 + K4425
Front Right:
K6303 + K4425
Electronics:
Defi Racer Boost guage Red
DF06505
Trust Profec B spec 2 Black
15500209
Apexi Turbo Timer Pen type
Nistune
Alpine DVD single din player
As it stands
As it once stood.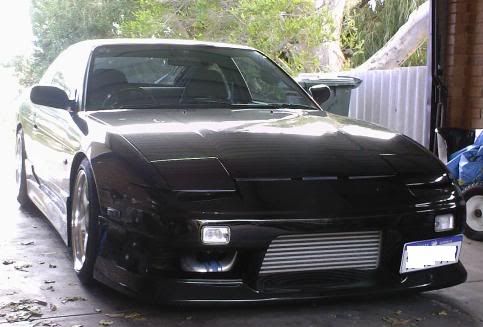 Earliest pic i have, with those gay fenders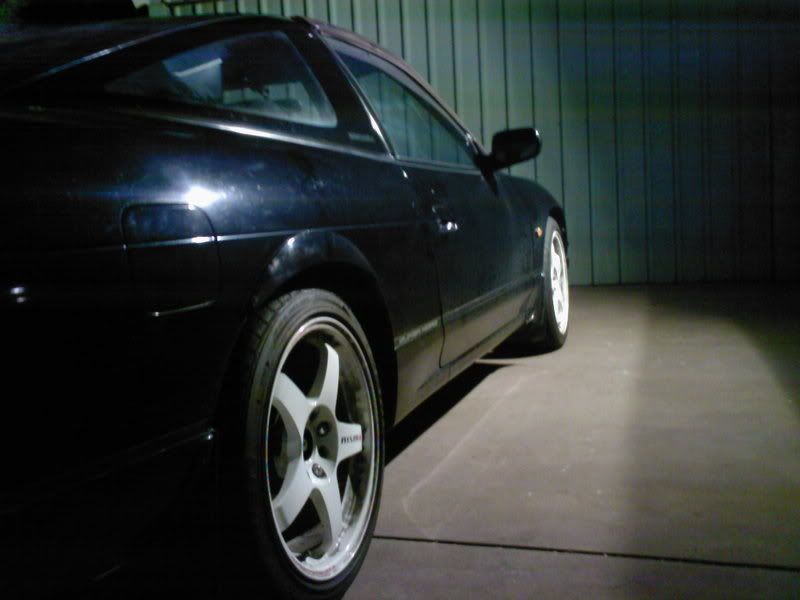 without kit etc
With LMGT4s

In workshop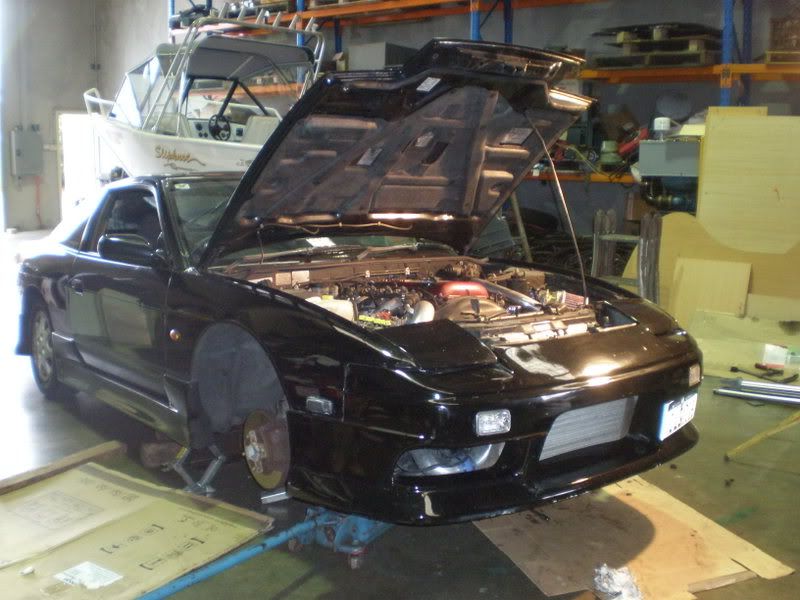 Currently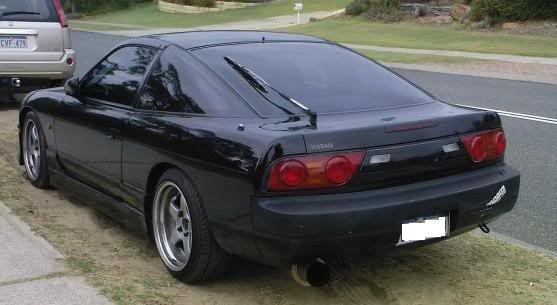 at Drags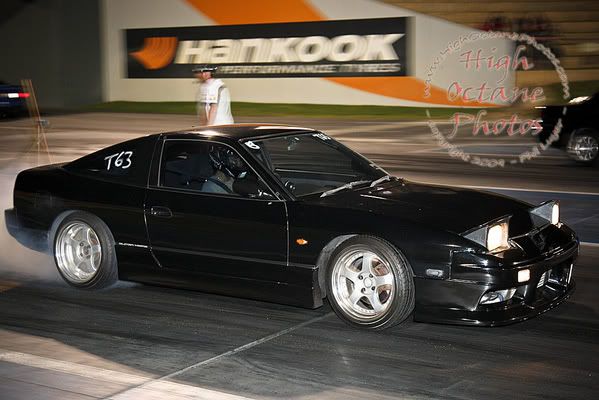 Swaybar comparison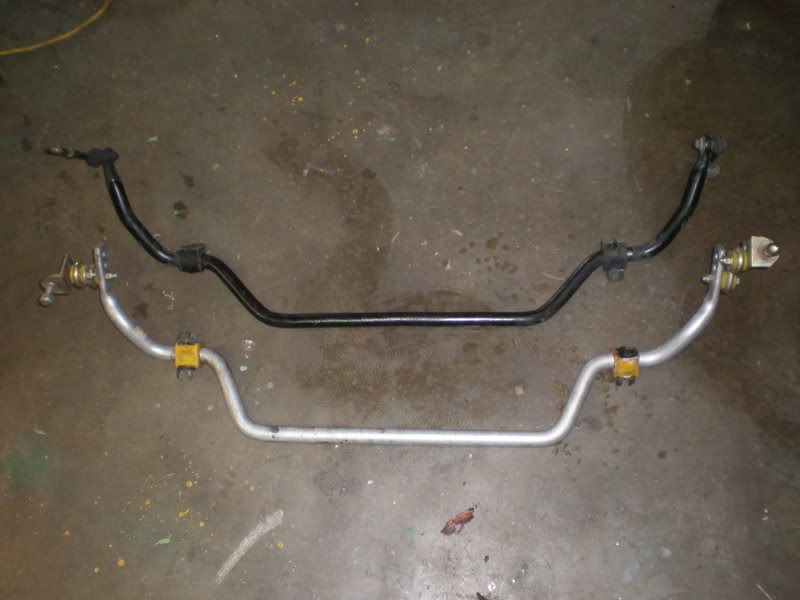 Installing Whiteline swaybar
Old V new HSD HR
Old V Newish Kazama castor rods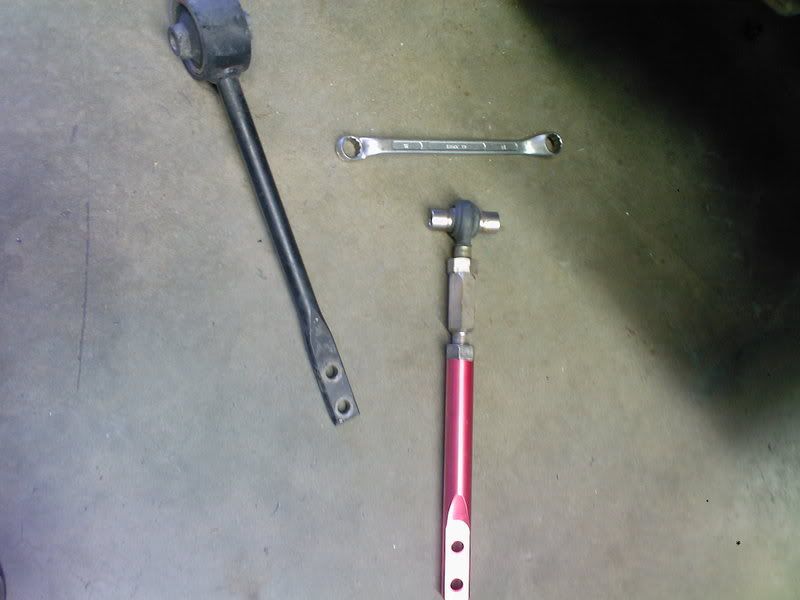 New HSD HR installed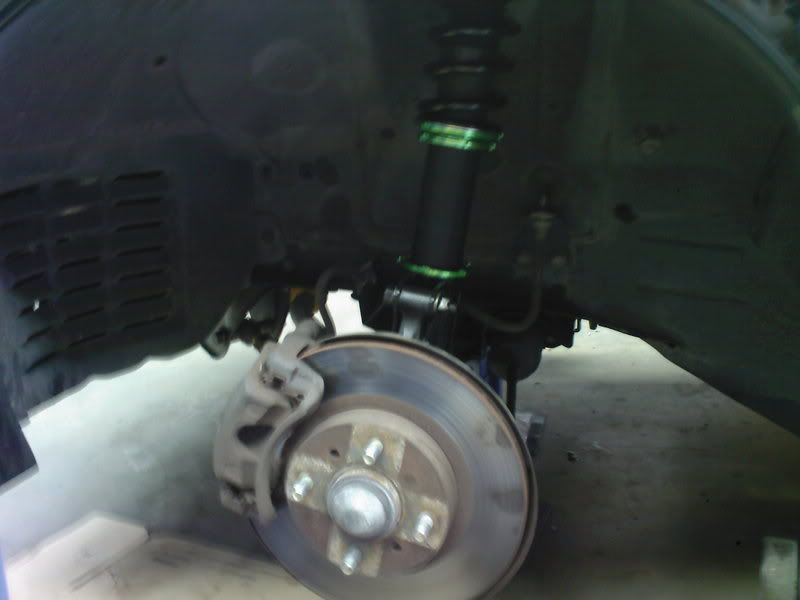 Turbo Comparison, GT2871r is in the middle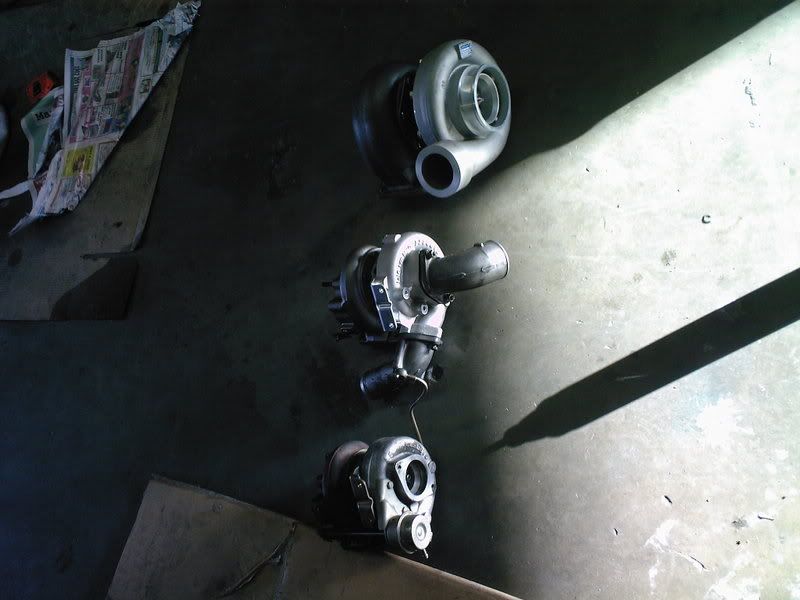 Turbo installed
Boot all nice and welded and bogged!
Front bar also fixed up after that incident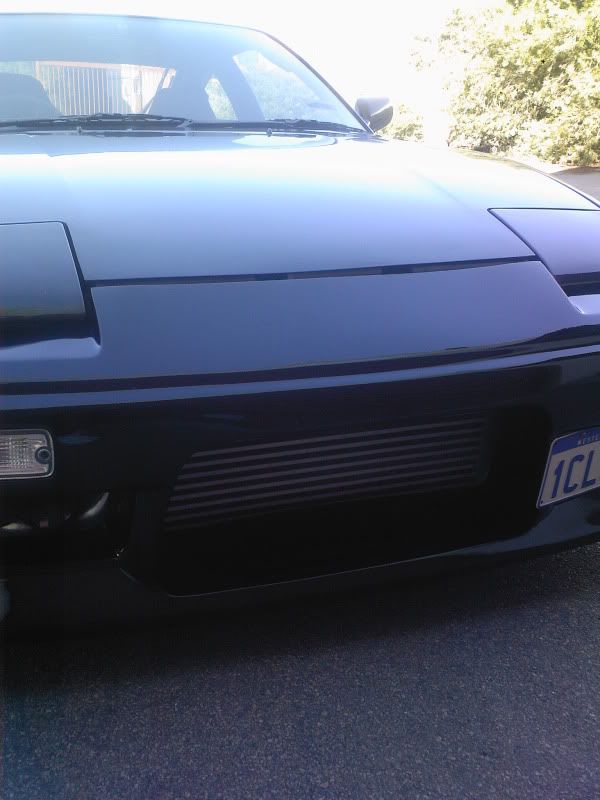 Spraying wipers matt black!!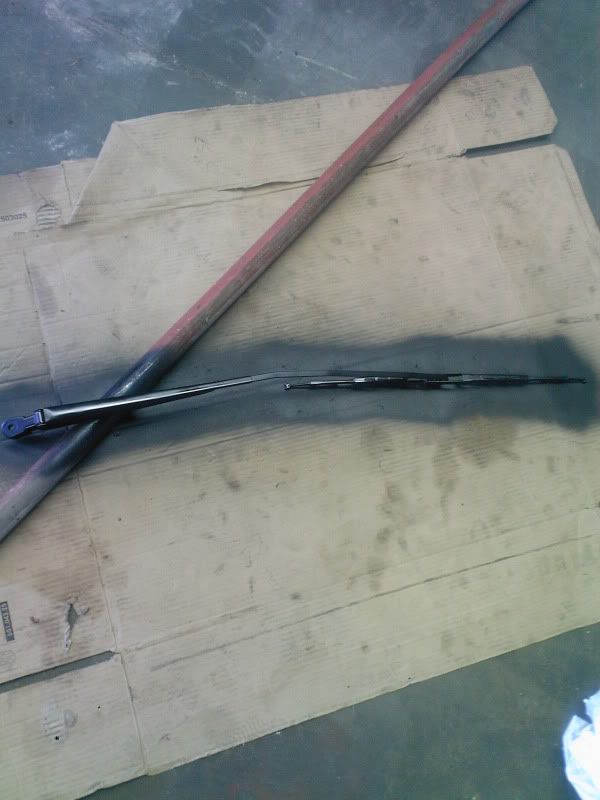 New Kelway manifold V old Stocker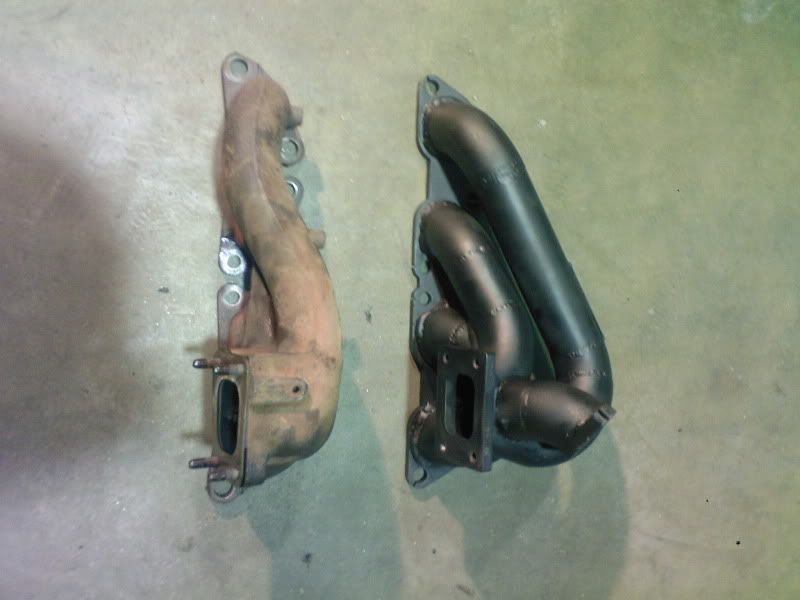 Edited by volt_bite, 27 June 2011 - 10:15 PM.